Velocitynet – A WISP profile by Ernie Newman.
Velocitynet owner Trevor Fulton is a natural inventor. He invented a cordless jug and cordless iron many years ahead of Kambrook. Nowadays he's focused on beating mainstream national phone companies to the gun by offering Southlanders, and others, a superior broadband service.
Trevor's very obviously a Southlander – you've only got to hear him roll his tongue round a term like "broadband router" to work that out. But his heritage is Scots. His laid back, easy style and ready sense of humour seem absolutely at home in the crisp but bitterly cold southern winter.
Having retired at a young age in 2011, as a qualified electrician with a successful alarm installation and monitoring business, Trevor hit on the idea of a wireless ISP covering rural Southland. He learned about WISP services and technology over the Internet, went back for some university training, and visited several WISPs around the regions of New Zealand to pick their brains. Armed with those practical insights, and after practicing by connecting his home to his office, he started Velocitynet.
Put like that, it all sounds so easy.
For about three years Velocitynet grew slowly, somewhere on the cusp between a hobby and a serious business. Then in 2014 Trevor was joined by Nigel Ferguson, previously a senior network engineer with the Southland District Council. "That's when we started getting seriously commercial," Trevor says. "I hadn't really known what I was doing – I was copying others and off the Internet and hoping for the best. Nigel brought serious engineering expertise from his role at the Council."
Velocity's first wireless site was at Forest Hill near Winton, close to Trevor's home. A tv station had occupied the site but gone out of business, so Velocity joined with a local technology business to take the site over. Meanwhile Velocity did a deal to buy fibre bandwidth from a local school, long before the Ministry of Education came up with the same idea and officially sanctioned it.
From there it was all forward progress. Trevor became adept at building wireless sites. He could do one entirely on his own in 2 days, driving home by a different route each time putting sales flyers into letterboxes. Pamphlets, and the resulting word of mouth in each community, drove Velocity strongly into the market.
Early builds included the areas of Ferndale, Mataura, Clinton, and Limehills. Trevor's inventiveness can be seen in some of the sites which occupy imaginative locations such as the roof of a fertiliser shed and on top of a grain silo. They work perfectly! Lumsden followed, not quite such a happy story as Vodafone turned up in the town a month later to compete using the government-subsidised RBI1 cellular Internet service.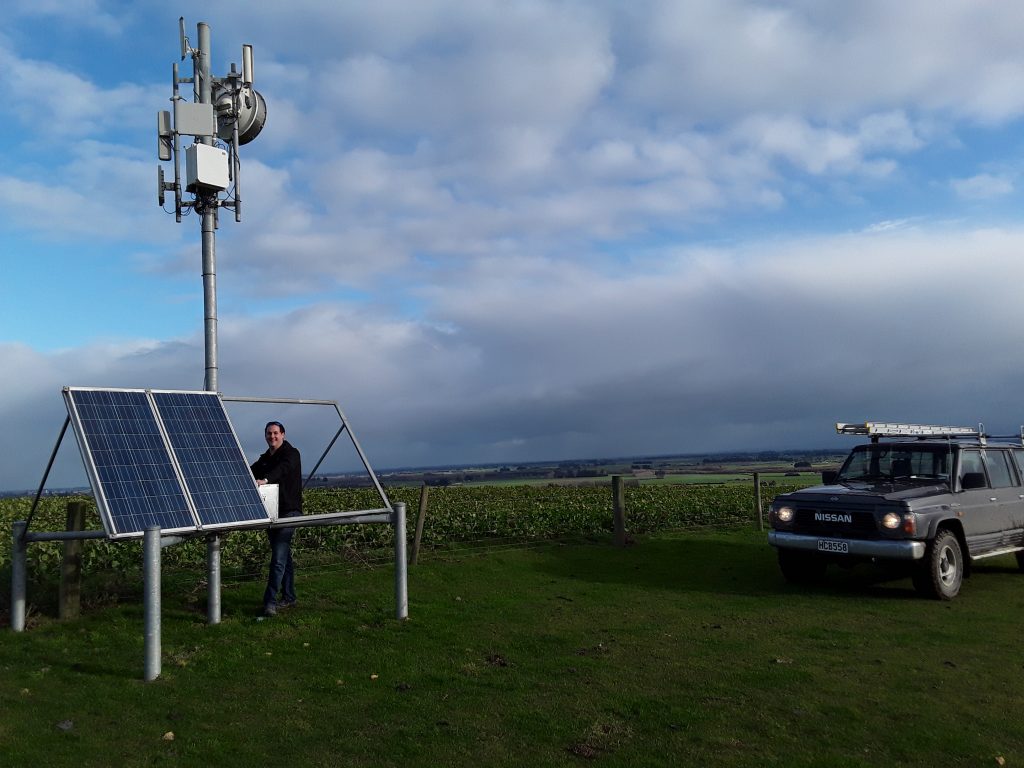 Meanwhile as the business grew the staff compliment grew alongside. Trevor is clearly proud of the team he's built around him. "Maria in accounts has been with me for 23 years," he tells me, "and database engineer Max is undoubtedly one the best in the country." Dennis on sales, Nicola on reception, and engineer James complete the team.
"Service is what sells," he says – "the phone is always answered within 3 rings." Take that, mainstream phone companies – customers from the North Island ring Velocity because they can't get Spark or Vodafone to answer their calls. That's enabled Velocity to sell fibre services as well as copper-based DSL connections throughout the country – Velocity goes in with a competitive quote, couriers a DSL router to the customer, and away they go.
Fibre is a bit more tricky but depending on location it can be done. The jewels in Velocity's fibre offering include a private fibre to the satellite tracking station, a fully fibre ducted subdivision on the outskirts of Wanaka, and another under construction in Queenstown with over 600 customers. And the company has many bespoke tailored deals for individual customers locally and overseas – helped again by its owner's inventive streak.
Put all that together, add in a sizeable data centre, and you have a highly successful business with 1500 customers, 13 wireless sites, and a range of technologies for sale. Velocity is here to stay for Southlanders and those further afield.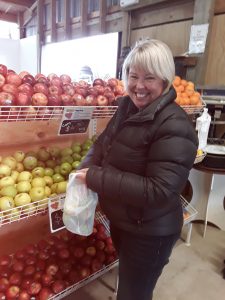 Velocitynet customer Kathy Wilson is delighted to have decent connectivity at last.
Before that, Kathy had dial up Internet through Spark at her home, and no connectivity in her fruit shop. The trouble was that her area, Ryal Bush, had one of Spark's oldest exchanges with no plans for an upgrade, and the cellular coverage was equally bad. With three teenagers at home all needing Internet access to do their homework, and immersed in Google classrooms, that simply didn't work.
"Now we have 100% reliability for both home and the business," Kathy says. "EFTPOS works. We have an antenna. We're about to connect the dairy shed as well. And the kids are happy!"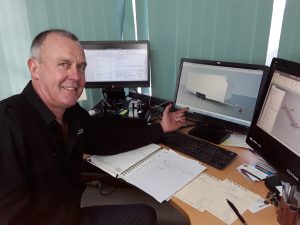 Colin Hitchen's company Lochiel Engineering is famous for its trailers. It's in a hard-to-find corner of rural Southland. But that doesn't matter. Rarely does a client come through the door – most describe the trailer they want, Colin designs it on an electronic tool that turns the design into a drawing, and the customer goes on line and buys off the drawing. The image is so real that many customers think it's a photo of a trailer already built.
For that reason Lochiel is a very big Internet user. So big that Velocity is now putting in a fibre connection to the factory, which will also pass a number of rural residences.
"I hadn't heard about Velocity until I dug deep," Colin says. "I was on Vodafone's RBI1 connectivity, but it was very weather-dependent. I'm very glad I found Velocity – they are very consistent and responsive. Its an excellent relationship."
---