Gisborne.net – a WISP Profile by Ernie Newman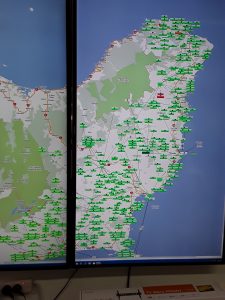 So much for those who thought the WISPs were new kids on the block! Its almost a quarter century since Ronald Brice, along with Dave Parker, started Gisborne.net.
In 1995, as an installer of IT networks with a degree in computer science Ronald looked at the high price of phone services and saw an opportunity to bring the Internet to his home town of Gisborne.
Starting with a 1 Megabit link around Gisborne city, working with local wireless entrepreneur Laurie Colvin, and with the District Council as the first major client, Ronald and Dave just got on and did it. Gisborne.net hasn't looked back.
Fast forward 24 years to 2018 and you find a thriving Internet business that provides urban-grade broadband, with unlimited data at highly affordable prices, to 3500 customers. All this in one of the most challenging regions to build a WISP geographically, topographically and economically. In its understated way Gisborne.net has probably done as much to open up Poverty Bay to the 21st century world as the completion of Gisborne's rail link opened it to the 20th 60 years before.
The 3500 customers make the company one of the New Zealand's biggest WISPs. They range across the economy. Dairy farmers, many of them refugees from expensive and erratic satellite services, have embraced WISP wireless services on a large scale. Many pay for their farm staff connections as well as their own to offset the downside of isolation.
Local iwi Ngati Porou has Gisbone.net connectivity in 49 maraes. So do a number of the isolated Ngati Porou health clinics, where they support video consultations for nurses, doctors and patients. Other maraes frequently take a temporary connection when there is a special event, but once the Government RBI2 contract is completed 100% of maraes will have ongoing access. Highly profitable manuka honey and foresty businesses are customers – even a commercial hemp operation.
At the technological extreme, Rocket Lab uses Gisborne.net for its Internet services at the Mahia Peninsula launch site. When it has high demand for bandwidth during a launch other customers' traffic is diverted via Wairoa so that nobody's service gets downgraded.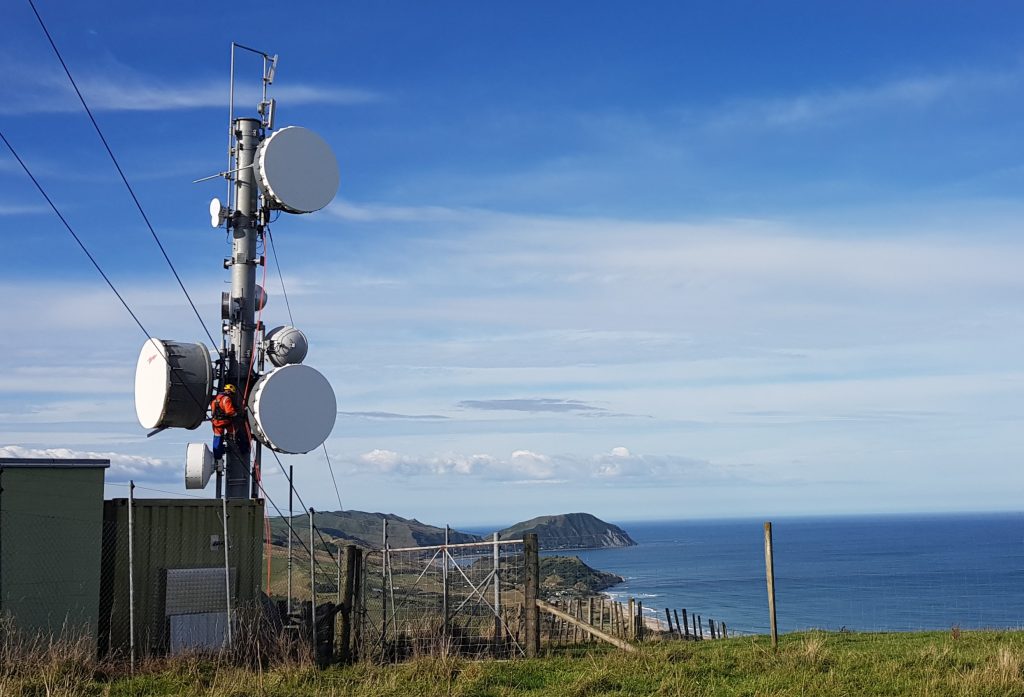 The coverage is comprehensive. Starting at the top of East Cape and Cape Runaway, south through Gisborne, the Mahia Peninsula, Wairoa, and west through Lake Waikaremoana and Tutira in Hawkes Bay. That's a sizeable chunk of the North Island, serviced by over 200 sturdy sites build to withstand some of the country's strongest gales. Most of the sites require direct line of sight to each other but there are exceptions – going through one line of hills is usually achievable, two is a struggle, and three is impossible.
Gisborne.net's office, opposite McDonalds in downtown Gisborne, houses a data centre providing data storage to a range of corporate customers, the network operation centre from which the 200 sites can be controlled and traffic re-routed, and the team of half a dozen staff comprising design, development, management and accounting specialists. Installers (who mount the CPE or Customer Premises Equipment on users' houses, sheds or offices) are external contractors based in Gisborne and Wairoa.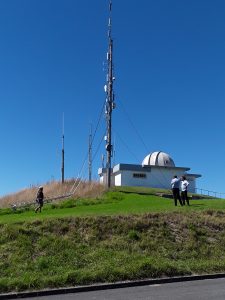 Backhaul is connected to the network here through a fibre link from Gisborne.net's own routers in the Internet Exchange in Mayoral Drive, Auckland.

From here it goes to a rooftop antenna, up to a tower on nearby Kaiti Hill, then on to the 200 hilltop antennas that are the company's network.
Resilience is key. The sites are made to last with solid engineering and high-spec materials. A typical site with solar panels re-charging the batteries can run for up to 5 years without a site visit, provided that the farmer tops up the battery water now and then when passing. Most do so happily.
It takes a lot of radio spectrum on a range of bands to run such a complex network. Ronald notes the business owns a lot of spectrum by WISP standards. "Spectrum is gold," he says – ample choice reduces the likelihood of any interference issues with adjacent spectrum-holders which is a very rare occurrence.
The company was one of the first to contract with Crown Infrastructure Partners – the government agency charged with deployment of RBI2, the second phase of the Government's Rural Broadband Initiative. It was one of a very few WISPs contracted for the earlier RBI1 version for which it connected thirteen schools. For RBI2 the commitment is much larger. Ronald notes that even with the government contribution the private investment required is still substantial – and like other WISPs contracted for RBI2 Gisborne.net has been rolling out the coverage well ahead of schedule. Contrast this with the three cell phone companies who are still at the starting gate.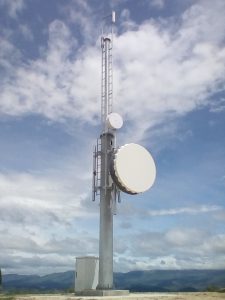 Much of the RBI2 project is about upgrading the speeds of existing Gisbore.net customers, but there is also a substantial number of new connections who will grow the network coverage west into the Waioeka Gorge and beyond. The aspiration is to keep expanding west towards Taupo, in the first instance covering isolated Minginui where Minister Shane Jones recently announced $10 million funding for a manuka honey project.
Femtocells – small base stations that deliver voice and data signals across an area somewhat bigger than household WiFi – are adding a new dimension for Gisborne.net customers. The company has deployed hundreds of Vodafone's "Sure Signal" femtocells. The customer gets data services from Gisborne.net and voice services from Vodafone across the same connection, meaning that their cell phone can be used to make and receive voice calls and texts from the customer's home even it is way out of range of the Vodafone network.
The company – and its associated WISP WiFi Connect which specialises in low-decile areas in the northern and western parts of the region – are generous with data and keenly priced. WiFi Connect offers prices as low as $10 per week, uncapped with 2MBs speeds, allowing the customer to access Netflix movies all day long. For a typical family way up the coast, with no car and very rare access to town, that's life changing.
For all the quarter century of history, Ronald Brice remains an enthusiast for the technology and the service. With the cellphone companies coming to Gisborne at some stage as part of their portion of the RBI2 rollout, he is unfazed by the prospect of more competition. He's fit and youthful looking for someone who's been in the business a quarter century. Chatting to him you get the feeling that Gisborne.net has a way to go yet.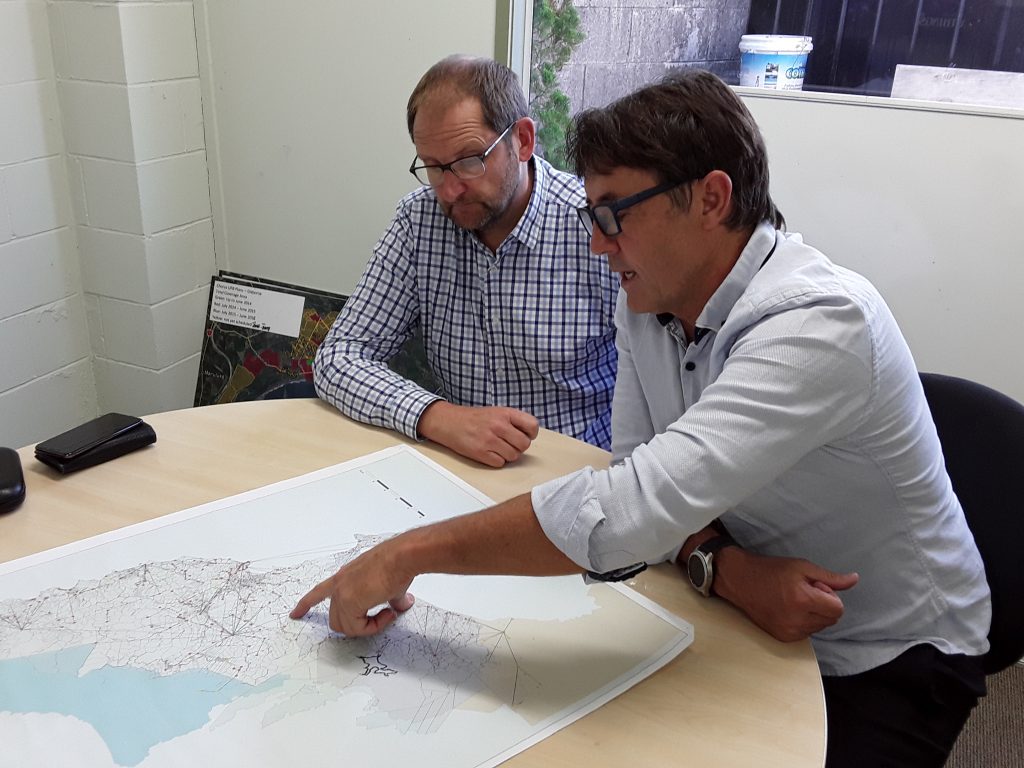 "We're way cheaper than the competition," he says. "We offer unlimited capacity at $75 monthly. We've offered unlimited data plans ever since the days of dial-up ended, and that didn't change when Netflix came into play. Its better to spend money on ample bandwidth than on arguing with the customer every month about the amount of usage."
Very few 21st century users would disagree.
CUSTOMER APPRECIATES AN ENVIRONMENTALLY SUSTAINABLE NETWORK
Gisborne.net's usage of solar power as the mainstay of its network is one of a number of aspects of the service appreciated by one of its oldest customers.
Noel Amor has used Gisborne.net for more than 20 years. As the first employee of food processing company Cedenco Foods he initially worked with Ronald Brice when Cedenco's IT services were provided by Gisborne.net's IT arm. When the Internet appeared and Gisborne.net came on stream it was an obvious choice to provide Cedenco's connectivity. That's never changed.
Nowadays Noel imports food processing machinery from Italy and sells throughout Australia as well as New Zealand. "I travel a lot," he says, "and I can access my server in my home office from wherever I go in the world.
"Gisborne.net runs under the radar – you don't see a lot of flashy advertising – but they have a huge coverage and have made a significant contribution to the development of the region.'
Noel appreciates the fact that if there is ever a problem he can speak to someone down the road in Gisborne who knows the region to solve it, rather than a distant call centre. "They're still the same faces, and they respond quickly on the phone. Its good to see a local company meeting the local and regional needs."
---